The basic functionality of Simple Data Logger is available for free for
personal, non-commercial
use (see
EULA
). A paid 'Basic' license is required for all other purposes. A 'Plus' license which enables the entire functionality of the software is also available.
Click here to see the features only available with a Plus license.
Perpetual licenses
Please click on one of the buttons below to continue to our reseller FastSpring (your license and invoice will be created automatically).
*plus VAT or sales tax, where applicable. Click buttons to see prices in your local currency (if supported).
These licenses are perpetual and include two years of free updates.
90 days license
If you don't need a perpetual license, click on the button below to purchase an SDL Plus license valid for 90 days (not a subscription, non-recurring):
*plus VAT or sales tax, where applicable. Click button to see price in your local currency (if supported).
Trial licenses
Please contact us if you would like to request a SDL Plus trial license before purchasing.
Become a reseller
Are you interested in selling our software to your customers? Click here to learn more and to apply for a reseller account.
About FastSpring
Based in California in the United States, FastSpring is our trusted reseller for digital products and your contractual partner for your purchase. FastSpring automatically generates your license keys and invoice and takes care of the collection of taxes.
FastSpring's W-9 form can be downloaded here (PDF).

Activating your license
Copy the license key to the license tab and click on apply: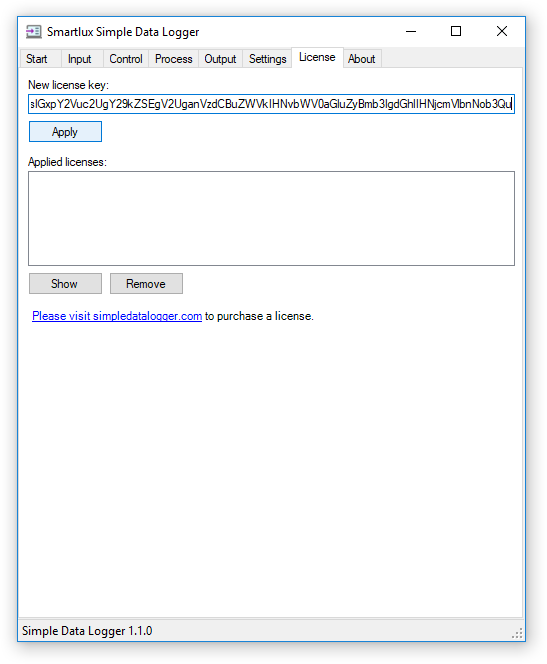 Buying licenses directly from us (Smartlux SARL)
We very much prefer that you buy your licenses through FastSpring's fully automated process as described above. This frees up our time for further development of our software.
If you would still like to purchase licenses directly from us, please contact us. Please note that we charge a non-refundable fee of 40€ (excl. VAT) per order for manual order processing.